Palermo Airport Arrivals (PMO)
Not all flights may be showing. If not available use search above to find your flight by airline, airport or flight number.
Origin
Airline
Flight no.
Scheduled
Est./Actual
Status
Bergamo (BGY)
Malta Air
FR2289
07:25
Scheduled
Pisa (PSA)
Ryanair
FR6256
07:25
06:58
Landed
Venice (VCE)
Wizz Air
W45668
07:50
Scheduled
Napoli (NAP)
easyJet
U24101
08:00
Scheduled
Wroclaw (WRO)
Ryanair
FR2026
08:10
07:39
Landed
Istanbul (IST)
Turkish Airlines
TK1373
08:20
Scheduled
Milan (MXP)
Ryanair
FR1015
08:25
07:52
Landed
Paris (ORY)
Transavia
TO3810
08:25
07:55
Landed
Nantes (NTE)
Transavia
TO4042
08:30
Scheduled
Venice (VCE)
Ryanair
FR577
08:35
Scheduled
Milan (MXP)
easyJet
U23501
08:40
Scheduled
Zurich (ZRH)
Swiss
LX1740
08:50
Scheduled
Rome (FCO)
Ryanair
FR3946
09:30
Scheduled
London (LGW)
easyJet
U28321
09:40
Scheduled
Verona (VRN)
Ryanair
FR4915
09:50
Scheduled
Lampedusa (LMP)
DAT
DX1806
10:05
Scheduled
Rome (FCO)
Ryanair
FR4902
10:15
Scheduled
Rome (FCO)
ITA Airways
AZ1777 expand_more(3)
10:20
Scheduled
Rome (FCO)
Aerolineas Argentinas
AR7272
10:20
Scheduled
Rome (FCO)
Ethiopian Airlines
ET4005
10:20
Scheduled
Rome (FCO)
Etihad Airways
EY3036
10:20
Scheduled
Pantelleria (PNL)
DAT
DX1822
10:20
Scheduled
Napoli (NAP)
TUI
TB3581
10:20
Scheduled
Turin (TRN)
Ryanair
FR2313
10:25
Scheduled
Rome (FCO)
Flexflight
W28481
10:30
Scheduled
Rome (FCO)
Aeroitalia
XZ2602
10:30
Scheduled
Milan (MXP)
Ryanair
FR1028
10:35
Scheduled
Frankfurt (FRA)
Lufthansa
LH338
10:35
Scheduled
Milan (LIN)
ITA Airways
AZ1763
10:40
Scheduled
Gudja (MLA)
French Air Force
CTM1292
10:40
Scheduled
Grosseto (GRS)
Global Air Charters
GJE622
10:50
Scheduled
Munich (MUC)
Discover Airlines
LH1914
11:05
Scheduled
No flight arrivals were found at Palermo Airport.
Flight Arrivals at Palermo Airport
Palermo Airport is linked to the city of Palermo via shuttle buses, taxis and trains. The airport is just 35 km distance from the city. It lies at Punta Raisi, which is also the name used by the airport's train station.
After passing through immigration (passport control), passengers arriving at Palermo Airport are directed to the baggage reclaim area. If baggage is lost, travelers should inform their airline as soon as possible. Many items of baggage do turn up eventually, some within a few hours of being reported missing. After reporting lost baggage to the relevant airline, it is possible to track it via its baggage identification tag, which carries an identification code. There is a Lost & Found office at the airport, where returned baggage can be collected by passengers, if it was found within Palermo Airport. If baggage was lost en route, the airline will have their own Lost & Found office, where baggage can be reclaimed.
Passing through the Customs area, passengers will be directed by signage to the various onward travel options. Car rental companies at Palermo Airport include Avis, Europcar, Hertz, Maggiore, Locauto and Win Rent, but there are many more offering affordable transport options suitable for leisure and business travel.
An Information Desk is located in the Arrivals hall. Staff can provide information on flights, offer or arrange assistance to minors travelling on their own, and advise on onward travel options from just outside the terminal. The Information Desk is open from 6.00 am to midnight every day.
Passengers in need of tourist information will find an office on the ground floor of the terminal that is open from Mondays to Fridays from 8.30 am to 7.30 pm, and on Saturdays from 8.30 am to 6.00 pm. The Tourist Information office can help with information on hotels, onward travel to the city of Palermo and where to find tourist attractions in the city and surroundings.
WiFi Access
Unlimited, free WiFi access is available throughout the terminal. Travelers wanting to check their emails or surf the Internet can log onto the GESAP network by selecting the "Hot Spot GESAP" option on their screen. When the browser is opened, the GESAP home page appears. Following the instructions will allow travelers to connect.
Getting to Palermo and beyond
Radio Taxi Trinacria offers taxi sharing from 10.00 euros per person, tel +39 091 225460 or tel +39 091 225455, http://www.radiotaxitrinacria.it/. It is typical for 4 passengers to share a taxi to enjoy the lowest rates.
Autoradio Taxi, or Coop. Autoradio Taxi, charges 35.00 euros for a trip to Palermo from the airport and vice versa, tel +39 091 513 311, http://www.autoradiotaxi.it/.
The taxi rank is just outside the terminal. Calling out a taxi takes around 20 minutes, if none are standing outside the building.
Shuttle buses and coach travel is also available at Palermo Airport. The airport shuttle is operated by Autolinee Prestia and Comandè (https://www.prestiaecomande.it/). Buses run approximately every 30 to 40 minutes. The shuttle service starts at the airport at 5.00 am, and ends at 00.15 pm. In Palermo, the first shuttle leaves at 4.00 am, and the last leaves the city at 10.30 pm.
The shuttle runs from the airport to Via Belgio, Via Croce Rossa 125-Via A De Gasperi 187, Via Libertà 203/corner with Lazio, Via Libertà 171/corner with Via Rutelli, Via Libertà 95 at Piazza A Gentili, Via Libertà 45 at Piazza Croci, Politeama, Via Emerico Amari 5 (Porto) to Palermo Central Train Station. The journey takes around 50 minutes.
Tickets for the airport shuttle can be purchased online at the above address, or at the airport ticket office located in the Arrivals area. Tickets cost 6.00 euros per person going one-way.
Trains run to Palermo from just beneath the terminal – escalators and lifts take passengers to the underground station, where Trenitalia trains offer onward travel. The airport train arrives at Palermo Central Train Station about one hour later, https://www.trenitalia.com/.
Other Services
Palermo Airport terminal has a First Aid Station on the first floor, where the Italian Red Cross provides first aid treatment in emergencies. The station is open 24 hours a day, every day of the year.
The Ticket Office on the first floor is open from Monday to Sunday from 05.00 am to 10.00 pm.
Was your flight delayed or cancelled?
You may be eligible to receive up to 600 EUR compensation per person in your party..
Claim Now!
Beat the Queues
Don't stand sweating for 45 mins waiting for Security. Get a fast track and get through in 5 mins or less.
Book now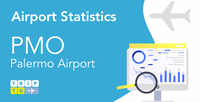 A remarkable increase of 204.65 % compared to July during the pandemic years of 2020 when passenger numbers were recorded at 322,092. Such growth signifies a remarkable airport recovery, showcasing travel demand resilience in the post-pandemic era...