Flights, Arrivals & Departures at Palermo Airport
Origin
Airline
Flight no.
Scheduled
Est./Actual
Status
Lampedusa (LMP)
DAT
DX1802
07:05
Scheduled
Bergamo (BGY)
Malta Air
FR2289
07:25
Scheduled
Pisa (PSA)
Ryanair
FR6256
07:25
06:58
Landed
Venice (VCE)
Wizz Air
W45668
07:50
Scheduled
Napoli (NAP)
easyJet
U24101
08:00
Scheduled
Wroclaw (WRO)
Ryanair
FR2026
08:10
Scheduled
Istanbul (IST)
Turkish Airlines
TK1373
08:20
Scheduled
Milan (MXP)
Ryanair
FR1015
08:25
Scheduled
Paris (ORY)
Transavia
TO3810
08:25
Scheduled
Nantes (NTE)
Transavia
TO4042
08:30
Scheduled
Venice (VCE)
Ryanair
FR577
08:35
Scheduled
Milan (MXP)
easyJet
U23501
08:40
Scheduled
Zurich (ZRH)
Swiss
LX1740
08:50
Scheduled
Rome (FCO)
Ryanair
FR3946
09:30
Scheduled
London (LGW)
easyJet
U28321
09:40
Scheduled
Verona (VRN)
Ryanair
FR4915
09:50
Scheduled
Lampedusa (LMP)
DAT
DX1806
10:05
Scheduled
Rome (FCO)
Ryanair
FR4902
10:15
Scheduled
Rome (FCO)
ITA Airways
AZ1777 expand_more(3)
10:20
Scheduled
Rome (FCO)
Aerolineas Argentinas
AR7272
10:20
Scheduled
Rome (FCO)
Ethiopian Airlines
ET4005
10:20
Scheduled
Rome (FCO)
Etihad Airways
EY3036
10:20
Scheduled
Pantelleria (PNL)
DAT
DX1822
10:20
Scheduled
Napoli (NAP)
TUI
TB3581
10:20
Scheduled
Turin (TRN)
Ryanair
FR2313
10:25
Scheduled
Rome (FCO)
Flexflight
W28481
10:30
Scheduled
Rome (FCO)
Aeroitalia
XZ2602
10:30
Scheduled
Milan (MXP)
Ryanair
FR1028
10:35
Scheduled
Frankfurt (FRA)
Lufthansa
LH338
10:35
Scheduled
Milan (LIN)
ITA Airways
AZ1763
10:40
Scheduled
Gudja (MLA)
French Air Force
CTM1292
10:40
Scheduled
Grosseto (GRS)
Global Air Charters
GJE622
10:50
Scheduled
Munich (MUC)
Discover Airlines
LH1914
11:05
Scheduled
Tunis (TUN)
Tunisair Express
UG1758
11:30
Scheduled
Edinburgh (EDI)
Ryanair
FR3425
11:40
Scheduled
Warsaw (WAW)
LOT
LO6601
11:42
Scheduled
Rome (FCO)
Ryanair
FR5840
11:50
Scheduled
Pisa (PSA)
Ryanair
FR9514
12:00
Scheduled
Bologna (BLQ)
Ryanair
FR3916
12:15
Scheduled
Milan (LIN)
ITA Airways
AZ1765 expand_more(2)
12:30
Scheduled
Milan (LIN)
Air France
AF9794
12:30
Scheduled
Milan (LIN)
KLM
KL3482
12:30
Scheduled
Trapani (TPS)
Luxwing
BN5331
12:53
Scheduled
Rome (FCO)
Ryanair
FR4904
13:00
Scheduled
Milan (MXP)
Ryanair
FR1150
13:10
Scheduled
Pantelleria (PNL)
DAT
DX1828
13:20
Scheduled
Lyon (LYS)
Transavia France
TO4034
13:30
Scheduled
Napoli (NAP)
Ryanair
FR4652
13:30
Scheduled
Milan (LIN)
ITA Airways
AZ1769
13:45
Scheduled
Zurich (ZRH)
Swiss
LX1742
13:55
Scheduled
Milan (LIN)
ITA Airways
AZ1787
14:00
Scheduled
Amsterdam (AMS)
easyJet
U27803
14:05
Scheduled
Rome (FCO)
ITA Airways
AZ1781 expand_more(11)
14:25
Scheduled
Rome (FCO)
Air Europa
UX3147
14:25
Scheduled
Rome (FCO)
Air France
AF9815
14:25
Scheduled
Rome (FCO)
Bulgaria Air
FB1645
14:25
Scheduled
Rome (FCO)
China Airlines
CI9283
14:25
Scheduled
Rome (FCO)
Delta Air Lines
DL6640
14:25
Scheduled
Rome (FCO)
Etihad Airways
EY2871
14:25
Scheduled
Rome (FCO)
Kenya Airways
KQ4348
14:25
Scheduled
Rome (FCO)
KLM
KL3431
14:25
Scheduled
Rome (FCO)
MEA
ME2781
14:25
Scheduled
Rome (FCO)
TAP Air Portugal
TP7274
14:25
Scheduled
Rome (FCO)
Tarom
RO9703
14:25
Scheduled
Genova (GOA)
Ryanair
FR2910
14:25
Scheduled
Milan (MXP)
easyJet
U23505
14:25
Scheduled
Trieste (TRS)
Ryanair
FR1759
14:30
Scheduled
Bergamo (BGY)
Ryanair
FR4969
14:35
Scheduled
Brussels (CRL)
Ryanair
FR6269
14:35
Scheduled
Rome (FCO)
Flexflight
W28483
14:40
Scheduled
Rome (FCO)
Aeroitalia
XZ2702
14:40
Scheduled
Nürnberg (NUE)
Ryanair
FR903
15:00
Scheduled
Paris (CDG)
easyJet
U24565
15:15
Scheduled
Verona (VRN)
Volotea
V71533
15:20
Scheduled
Milan (LIN)
ITA Airways
AZ1775 expand_more(2)
15:40
Scheduled
Milan (LIN)
Air France
AF9795
15:40
Scheduled
Milan (LIN)
KLM
KL3483
15:40
Scheduled
Barcelona (BCN)
Vueling
VY6600 expand_more(3)
16:00
Scheduled
Barcelona (BCN)
Iberia
IB5559
16:00
Scheduled
Barcelona (BCN)
LATAM Airlines
LA5818
16:00
Scheduled
Barcelona (BCN)
Qatar Airways
QR4689
16:00
Scheduled
Memmingen (FMM)
Ryanair
FR4947
16:05
Scheduled
Pisa (PSA)
Ryanair
FR9584
16:05
Scheduled
Gudja (MLA)
VistaJet Malta
VJT716
16:11
Scheduled
Cologne (CGN)
Ryanair
FR5276
16:25
Scheduled
Napoli (NAP)
Volotea
V71579
16:30
Scheduled
Bari (BRI)
Ryanair
FR4099
16:55
Scheduled
Rome (FCO)
Ryanair
FR4906
16:55
Scheduled
Lampedusa (LMP)
DAT
DX1808
16:55
Scheduled
Paris (ORY)
Transavia
TO3818
17:25
Scheduled
Rome (FCO)
Flexflight
W28550
18:05
Scheduled
Rome (FCO)
Aeroitalia
XZ2802
18:05
Scheduled
Rome (FCO)
ITA Airways
AZ1795 expand_more(10)
18:25
Scheduled
Rome (FCO)
Air Baltic
BT5550
18:25
Scheduled
Rome (FCO)
Air Europa
UX3151
18:25
Scheduled
Rome (FCO)
Air France
AF9814
18:25
Scheduled
Rome (FCO)
Etihad Airways
EY2874
18:25
Scheduled
Rome (FCO)
KLM
KL3433
18:25
Scheduled
Rome (FCO)
Kuwait Airways
KU6261
18:25
Scheduled
Rome (FCO)
Royal Air Maroc
AT9219
18:25
Scheduled
Rome (FCO)
Royal Jordanian
RJ3571
18:25
Scheduled
Rome (FCO)
Saudia
SV6707
18:25
Scheduled
Rome (FCO)
TAP Air Portugal
TP7284
18:25
Scheduled
Cagliari (CAG)
Ryanair
FR1009
18:35
Scheduled
Milan (LIN)
ITA Airways
AZ1793 expand_more(1)
18:35
Scheduled
Milan (LIN)
KLM
KL3474
18:35
Scheduled
London (LHR)
Finnair
BA610
18:55
Scheduled
Pantelleria (PNL)
DAT
DX1826
18:55
Scheduled
Parma (PMF)
Ryanair
FR4498
19:00
Scheduled
Bologna (BLQ)
Ryanair
FR3926
19:15
Scheduled
London (STN)
Ryanair
FR3918
19:20
Scheduled
Berlin (BER)
Ryanair
FR3360
19:40
Scheduled
Rome (FCO)
Ryanair
FR8017
19:50
Scheduled
Lampedusa (LMP)
DAT
DX1804
20:00
Scheduled
Rome (FCO)
ITA Airways
AZ1791 expand_more(9)
20:20
Scheduled
Rome (FCO)
Aerolineas Argentinas
AR7266
20:20
Scheduled
Rome (FCO)
Air Baltic
BT5522
20:20
Scheduled
Rome (FCO)
Air Europa
UX3225
20:20
Scheduled
Rome (FCO)
Etihad Airways
EY2991
20:20
Scheduled
Rome (FCO)
KLM
KL3457
20:20
Scheduled
Rome (FCO)
Kuwait Airways
KU6281
20:20
Scheduled
Rome (FCO)
MEA
ME4791
20:20
Scheduled
Rome (FCO)
Royal Air Maroc
AT9215
20:20
Scheduled
Rome (FCO)
TAP Air Portugal
TP7280
20:20
Scheduled
Milan (MXP)
easyJet
U23509
20:20
Scheduled
Turin (TRN)
Ryanair
FR4917
20:40
Scheduled
Napoli (NAP)
easyJet
U24105
20:45
Scheduled
Florence (FLR)
Volotea
V71409
20:55
Scheduled
Venice (VCE)
Ryanair
FR836
21:20
Scheduled
Milan (MXP)
Ryanair
FR1438
21:25
Scheduled
Dublin (DUB)
Ryanair
FR7134
21:30
Scheduled
Manises (VLC)
Ryanair
FR4487
21:45
Scheduled
Bergamo (BGY)
Ryanair
FR6149
22:00
Scheduled
Milan (MXP)
easyJet
U23511
22:00
Scheduled
Rome (FCO)
ITA Airways
AZ1789 expand_more(6)
22:10
Scheduled
Rome (FCO)
Aerolineas Argentinas
AR7288
22:10
Scheduled
Rome (FCO)
Air Malta
KM2535
22:10
Scheduled
Rome (FCO)
Bulgaria Air
FB1647
22:10
Scheduled
Rome (FCO)
Etihad Airways
EY3037
22:10
Scheduled
Rome (FCO)
KLM
KL3473
22:10
Scheduled
Rome (FCO)
Royal Air Maroc
AT9218
22:10
Scheduled
Rome (FCO)
Flexflight
W28485
22:20
Scheduled
Rome (FCO)
Aeroitalia
XZ2902
22:20
Scheduled
Bologna (BLQ)
Ryanair
FR4341
22:25
Scheduled
Rome (FCO)
Ryanair
FR4908
22:30
Scheduled
Gudja (MLA)
Air Malta
KM662
22:30
Scheduled
Rome (FCO)
ITA Airways
AZ1783 expand_more(10)
22:55
Scheduled
Rome (FCO)
Aerolineas Argentinas
AR7248
22:55
Scheduled
Rome (FCO)
Air Europa
UX3153
22:55
Scheduled
Rome (FCO)
Air France
AF9811
22:55
Scheduled
Rome (FCO)
Air Malta
KM2531
22:55
Scheduled
Rome (FCO)
AirSERBIA
JU7310
22:55
Scheduled
Rome (FCO)
Etihad Airways
EY2872
22:55
Scheduled
Rome (FCO)
Kenya Airways
KQ4350
22:55
Scheduled
Rome (FCO)
KLM
KL3432
22:55
Scheduled
Rome (FCO)
Royal Air Maroc
AT9194
22:55
Scheduled
Rome (FCO)
TAP Air Portugal
TP7282
22:55
Scheduled
Milan (LIN)
ITA Airways
AZ1771 expand_more(2)
23:30
Scheduled
Milan (LIN)
Air France
AF9796
23:30
Scheduled
Milan (LIN)
KLM
KL3486
23:30
Scheduled
Turin (TRN)
Volotea
V71549
23:35
Scheduled
Verona (VRN)
Ryanair
FR6283
23:50
Scheduled
Bergamo (BGY)
Ryanair
FR6451
23:59
Scheduled
Destination
Airline
Flight no.
Scheduled
Est./Actual
Status
Milan (LIN)
ITA Airways
AZ1768 expand_more(2)
06:00
Scheduled
Milan (LIN)
Air France
AF9832
06:00
Scheduled
Milan (LIN)
KLM
KL3487
06:00
Scheduled
Rome (FCO)
ITA Airways
AZ1778 expand_more(12)
06:10
Scheduled
Rome (FCO)
Air Europa
UX3222
06:10
Scheduled
Rome (FCO)
Air France
AF9844
06:10
Scheduled
Rome (FCO)
AirSERBIA
JU7309
06:10
Scheduled
Rome (FCO)
Bulgaria Air
FB1648
06:10
Scheduled
Rome (FCO)
China Airlines
CI9284
06:10
Scheduled
Rome (FCO)
Delta Air Lines
DL6639
06:10
Scheduled
Rome (FCO)
Etihad Airways
EY2875
06:10
Scheduled
Rome (FCO)
Kenya Airways
KQ4349
06:10
Scheduled
Rome (FCO)
KLM
KL3435
06:10
Scheduled
Rome (FCO)
MEA
ME2778
06:10
Scheduled
Rome (FCO)
Royal Air Maroc
AT9237
06:10
Scheduled
Rome (FCO)
TAP Air Portugal
TP7275
06:10
Scheduled
Verona (VRN)
Ryanair
FR4914
06:20
Scheduled
Turin (TRN)
Ryanair
FR2312
06:25
Scheduled
Milan (MXP)
Ryanair
FR1016
06:35
Scheduled
Rome (FCO)
Ryanair
FR3947
06:40
Scheduled
Rome (FCO)
Flexflight
W28480
07:00
Scheduled
Rome (FCO)
ITA Airways
AZ1774 expand_more(6)
07:00
Scheduled
Rome (FCO)
Air Malta
KM2532
07:00
Scheduled
Rome (FCO)
Bulgaria Air
FB1644
07:00
Scheduled
Rome (FCO)
Delta Air Lines
DL6692
07:00
Scheduled
Rome (FCO)
Etihad Airways
EY3038
07:00
Scheduled
Rome (FCO)
Kuwait Airways
KU6353
07:00
Scheduled
Rome (FCO)
Royal Air Maroc
AT9236
07:00
Scheduled
Verona (VRN)
Volotea
V71532
07:00
Scheduled
Milan (MXP)
easyJet
U23512
07:00
Scheduled
Rome (FCO)
Aeroitalia
XZ2601
07:00
Scheduled
Rome (FCO)
Ryanair
FR4901
07:20
Scheduled
Lampedusa (LMP)
DAT
DX1803
07:35
Scheduled
Pisa (PSA)
Ryanair
FR6255
08:05
Scheduled
Milan (BGY)
Malta Air
FR2290
08:05
Scheduled
Venice (VCE)
Wizz Air
W45667
08:25
Scheduled
Naples (NAP)
easyJet
U24102
08:35
Scheduled
Wroclaw (WRO)
Ryanair
FR2025
08:45
Scheduled
Milan (MXP)
Ryanair
FR1029
08:50
Scheduled
Venice (VCE)
Ryanair
FR576
09:05
Scheduled
Nantes (NTE)
Transavia
TO4043
09:05
Scheduled
Paris (ORY)
Transavia
TO3811
09:10
Scheduled
Milan (MXP)
easyJet
U23502
09:15
Scheduled
Istanbul (IST)
Turkish Airlines
TK1374
09:20
Scheduled
Zurich (ZRH)
Swiss
LX1741
09:35
Scheduled
Rome (FCO)
Ryanair
FR4903
09:55
Scheduled
London (LGW)
easyJet
U28322
10:15
Scheduled
Nuremberg (NUE)
Ryanair
FR904
10:20
Scheduled
Pantelleria (PNL)
DAT
DX1821
10:50
Scheduled
Brussels (BRU)
TUI
TB3581
10:50
Scheduled
Trieste (TRS)
Ryanair
FR1758
10:55
Scheduled
Genoa (GOA)
Ryanair
FR2909
11:00
Scheduled
Lampedusa (LMP)
DAT
DX1805
11:00
Scheduled
Naples (NAP)
Ryanair
FR4653
11:05
Scheduled
Rome (FCO)
ITA Airways
AZ1782 expand_more(9)
11:05
Scheduled
Rome (FCO)
Air Baltic
BT5514
11:05
Scheduled
Rome (FCO)
Air Europa
UX3144
11:05
Scheduled
Rome (FCO)
Air France
AF9849
11:05
Scheduled
Rome (FCO)
Etihad Airways
EY2876
11:05
Scheduled
Rome (FCO)
KLM
KL3459
11:05
Scheduled
Rome (FCO)
Kuwait Airways
KU6289
11:05
Scheduled
Rome (FCO)
Royal Air Maroc
AT9238
11:05
Scheduled
Rome (FCO)
TAP Air Portugal
TP7279
11:05
Scheduled
Rome (FCO)
Tarom
RO9704
11:05
Scheduled
Rome (FCO)
Aeroitalia
XZ2701
11:15
Scheduled
Rome (FCO)
Flexflight
W28482
11:15
Scheduled
Frankfurt (FRA)
Lufthansa
LH339
11:30
Scheduled
Milan (LIN)
ITA Airways
AZ1796
11:30
Scheduled
Brussels (BRU)
Global Air Charters
GJE622
11:45
Scheduled
Olbia (OLB)
French Air Force
CTM1292
11:45
Scheduled
Munich (MUC)
Discover Airlines
LH1915
11:55
Scheduled
Edinburgh (EDI)
Ryanair
FR3426
12:10
Scheduled
Tunis (TUN)
Tunisair Express
UG1759
12:15
Scheduled
Rome (FCO)
Ryanair
FR5841
12:20
Scheduled
Pisa (PSA)
Ryanair
FR9513
12:30
Scheduled
Bologna (BLQ)
Ryanair
FR3917
12:45
Scheduled
Warsaw (WAW)
LOT
LO6602
12:55
Scheduled
Milan (LIN)
ITA Airways
AZ1764 expand_more(1)
13:25
Scheduled
Milan (LIN)
KLM
KL3489
13:25
Scheduled
Milan (MXP)
Ryanair
FR1151
13:35
Scheduled
Pantelleria (PNL)
DAT
DX1827
13:50
Scheduled
Dublin (DUB)
Ryanair
FR7135
13:55
Scheduled
Lyon (LYS)
Transavia
TO4035
14:10
Scheduled
Bari (BRI)
Ryanair
FR4100
14:20
Scheduled
Milan (LIN)
ITA Airways
AZ1770
14:30
Scheduled
Zurich (ZRH)
Swiss
LX1743
14:40
Scheduled
Milan (LIN)
ITA Airways
AZ1786
14:45
Scheduled
Amsterdam (AMS)
easyJet
U27804
14:55
Scheduled
Venice (VCE)
Luxwing
BN1900
15:00
Scheduled
Brussels (CRL)
Ryanair
FR6268
15:05
Scheduled
Milan (BGY)
Ryanair
FR4968
15:05
Scheduled
Rome (FCO)
ITA Airways
AZ1792 expand_more(7)
15:10
Scheduled
Rome (FCO)
Aerolineas Argentinas
AR7315
15:10
Scheduled
Rome (FCO)
Air Europa
UX3146
15:10
Scheduled
Rome (FCO)
Air France
AF9848
15:10
Scheduled
Rome (FCO)
Etihad Airways
EY2878
15:10
Scheduled
Rome (FCO)
KLM
KL3434
15:10
Scheduled
Rome (FCO)
Royal Air Maroc
AT9202
15:10
Scheduled
Rome (FCO)
TAP Air Portugal
TP7285
15:10
Scheduled
Milan (MXP)
easyJet
U23506
15:10
Scheduled
Parma (PMF)
Ryanair
FR4499
15:15
Scheduled
Rome (FCO)
Aeroitalia
XZ2801
15:15
Scheduled
Rome (FCO)
Flexflight
W28549
15:15
Scheduled
Bologna (BLQ)
Ryanair
FR3927
15:50
Scheduled
Paris (CDG)
easyJet
U24566
15:50
Scheduled
Cagliari (CAG)
Ryanair
FR1010
16:05
Scheduled
Turin (TRN)
Volotea
V71548
16:15
Scheduled
Milan (LIN)
ITA Airways
AZ1760 expand_more(2)
16:25
Scheduled
Milan (LIN)
Air France
AF9833
16:25
Scheduled
Milan (LIN)
KLM
KL3490
16:25
Scheduled
Memmingen (FMM)
Ryanair
FR4946
16:35
Scheduled
Pisa (PSA)
Ryanair
FR9585
16:35
Scheduled
Barcelona (BCN)
Vueling
VY6601 expand_more(1)
16:45
Scheduled
Barcelona (BCN)
Iberia
IB5560
16:45
Scheduled
Cologne (CGN)
Ryanair
FR5277
16:55
Scheduled
Naples (NAP)
Volotea
V71578
17:00
Scheduled
Milan (LIN)
VistaJet Malta
VJT716
17:20
Scheduled
Milan (MXP)
Ryanair
FR1439
17:25
Scheduled
Lampedusa (LMP)
DAT
DX1807
17:25
Scheduled
Rome (FCO)
Ryanair
FR4907
17:25
Scheduled
Paris (ORY)
Transavia
TO3819
18:10
Scheduled
Rome (FCO)
Aeroitalia
XZ2901
18:55
Scheduled
Rome (FCO)
Flexflight
W28484
18:55
Scheduled
Rome (FCO)
ITA Airways
AZ1794 expand_more(4)
19:10
Scheduled
Rome (FCO)
Air Malta
KM2534
19:10
Scheduled
Rome (FCO)
China Airlines
CI9472
19:10
Scheduled
Rome (FCO)
Ethiopian Airlines
ET4004
19:10
Scheduled
Rome (FCO)
Etihad Airways
EY2879
19:10
Scheduled
Milan (LIN)
ITA Airways
AZ1790 expand_more(1)
19:20
Scheduled
Milan (LIN)
Air France
AF9789
19:20
Scheduled
Pantelleria (PNL)
DAT
DX1825
19:30
Scheduled
Rome (FCO)
Ryanair
FR4905
19:40
Scheduled
London (LHR)
Finnair
BA611 expand_more(1)
19:45
Scheduled
London (LHR)
American Airlines
AA7040
19:45
Scheduled
London (STN)
Ryanair
FR3919
19:50
Scheduled
Milan (BGY)
Ryanair
FR6148
20:05
Scheduled
Berlin (BER)
Ryanair
FR3361
20:10
Scheduled
Rome (FCO)
Ryanair
FR8018
20:15
Scheduled
Verona (VRN)
Ryanair
FR6282
20:20
Scheduled
Lampedusa (LMP)
DAT
DX1801
20:30
Scheduled
Turin (TRN)
Ryanair
FR4916
21:05
Scheduled
Milan (MXP)
easyJet
U23510
21:05
Scheduled
Rome (FCO)
ITA Airways
AZ1780 expand_more(2)
21:15
Scheduled
Rome (FCO)
Ethiopian Airlines
ET4032
21:15
Scheduled
Rome (FCO)
Etihad Airways
EY3042
21:15
Scheduled
Naples (NAP)
easyJet
U24106
21:20
Scheduled
Florence (FLR)
Volotea
V71408
21:25
Scheduled
Venice (VCE)
Ryanair
FR837
21:50
Scheduled
Valencia (VLC)
Ryanair
FR4486
22:15
Scheduled
Milan (BGY)
Ryanair
FR6452
22:50
Scheduled
Bologna (BLQ)
Ryanair
FR4342
23:05
Scheduled
Malta (MLA)
Air Malta
KM663
23:15
Scheduled
Flying To and From Palermo Airport
This page provides information about the destinations that can be reached via Palermo Airport.
Was your flight delayed or cancelled?
You may be eligible to receive up to 600 EUR compensation per person in your party..
Claim Now!
Beat the Queues
Don't stand sweating for 45 mins waiting for Security. Get a fast track and get through in 5 mins or less.
Book now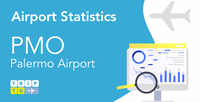 A remarkable increase of 204.65 % compared to July during the pandemic years of 2020 when passenger numbers were recorded at 322,092. Such growth signifies a remarkable airport recovery, showcasing travel demand resilience in the post-pandemic era...