Origin
Airline
Flight no.
Scheduled
Est./Actual
Status
No flight arrivals were found.
Destination
Airline
Flight no.
Scheduled
Est./Actual
Status
No flight departures were found.
UNBEATABLE VALUE CAR RENTAL
Free Amendments | Free Cancellations | No Card Fees



Useful Information about Palermo Airport 90045 Cinisi, Metropolitan City of Palermo, Italy
phone +39 800 541 880
phone+39 091 7020265 (Lost + Found)
emailoggettismarriti@gesap.it (Lost + Found)
call_end+39 091-7020394 (fax)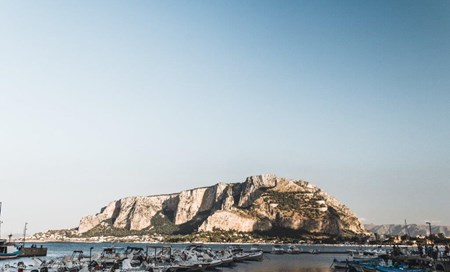 Palermo Airport, or Aeroporto Falcone Borsellino as it is called in Italian, is located at Punta Raisi, about 35 km west-north-west of Palermo in Sicily. Palermo's airport was first created in 1953, and passenger numbers have been steadily rising ever since. In 2017, some 5.7 million passengers used Palermo Airport, an 8.4% increase on 2016.
Airlines Alitalia, Air France, Aeroflot, Delta Air Lines, KLM, Qatar Airways. Ryanair, TAP Portugal and Volotea are just some of the world's airlines using Palermo Airport. Destinations passengers can choose include domestic routes like Bari and Bergamo, Bolgona, Florence, Rome Fiumicino, Lampedusa, Milan Linate and Milan Malpensa, Verona and Turin.
International destinations include Amsterdam Schiphol, Barcelona, Geneva, Frankfurt, Brest, Bucharest, London Heathrow, Gatwick and Stansted, Bordeaux, Luxembourg, Düsseldorf, Madrid, Lyon, Moscow, Tunis, Paris Charles de Gaulle and Zürich.
Arrivals and Departures
Palermo Airport is well connected by road and rail to the city. Once passengers arriving at Palermo have cleared the customs area, they fill find numerous onward transport options in the Arrivals Hall, including bus, rail and car hire options.
Transfer Services
Numerous car rental companies are located at Palermo airport, including Avis, Europcar, Hertz, Locauto, Maggiore, Sixt and Win Rent.
A taxi rank is located just outside the Arrivals exit. If no taxi is waiting, ask at the information desk outside the arrivals area to assist with telephone numbers for taxis. It takes ca. 20 minutes for taxis to arrive after call-out.
At the western end of the terminal, turning to the right at the exit out of the Arrivals Hall, there are bus and coach stops. Regular services provided by bus operator Prestia e Comandè connect the airport with the city of Palermo. They run every 45-55 minutes, beginning in the early morning hours at around 5.00 am at the airport, and at around 4.00 am at Palermo Central Train Station, to where the buses link (https://www.prestiaecomande.it/).
Buses also link Palermo Airport with Trapani on Sicily's west coast. The bus ride to Trapani Port takes ca. 25 minutes (https://www.trapanishuttle.com/en/).
Beneath the terminal is a railway station that can be accessed via escalators or lifts. Trains link the airport to Palermo Centrale, the central train station, and Palermo Notarbartolo, which lies in the north of Palermo at Piazza Matteo Boiardo. A trip to Central Station takes around 1 hour, the one to the northern station takes between 32 minutes and 45 minutes. A ticket for both stations costs 5.90 euros one way (price as at 2019 - https://www.trenitalia.com/tcom-en).
Hotels near the Airport
There are a number of hotels to suit all budgets and requirements at or near Palermo Airport.
Parking at the Airport
See options for parking services at Palermo Airport.
Additional Services and Amenities at the Airport
At Palermo Airport you will find the usual array of bars and restaurants, airport lounges and shops.
There are several shops and snack/coffee bars in the arrivals area. Other refreshments and shopping can be found on the second floor, where Duty Free shopping is also located in the Departures area.
Free unlimited WiFi is available in all parts of the terminal. Travelers need only to select "Hot Spot GESAP" on their mobile device and open their browser. They will be directed to the GESAP home page. GESAP is the airport operator of Palermo Airport. The home page gives instructions on how to log onto the network. There are even special booths for recharging in the Departure Lounge, where passengers can recharge their mobile devices.
Passengers needing assistance, should contact the airport information desk, which is open from 6.00 am to midnight every day (tel +39 091 7020273). The information desk can provide information on flight connections, special assistance for people with mobility problems or minors travelling on their own, among many other things
There is also a Tourist Information desk in the terminal, located on the ground floor, which offers advice on onward travel options and tourist attractions. The Tourist Information desk is open from Mondays to Fridays from 8.30 am to 7.30 pm, and on Saturdays from 8.30 am to 6.00 pm (+39 091 591 698).
Things to do in Palermo
There are a number of activities to suit all ages and interests in the region - see a selection of tourist activities in Palermo, Sicily in Italy.
Services at Palermo Airport
Palermo Airport News and Information