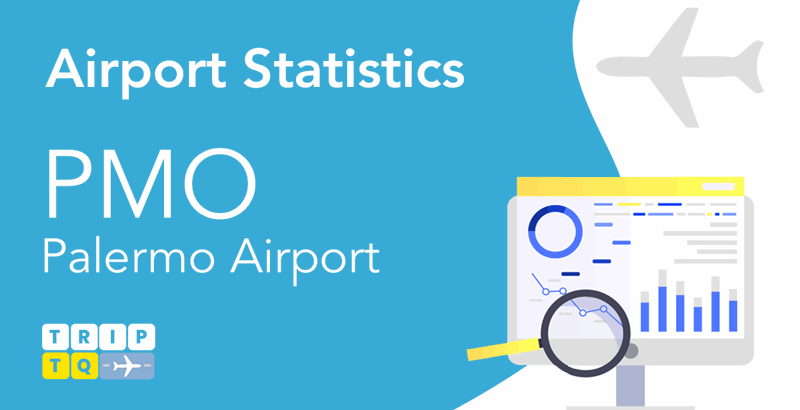 Palermo Airport Passenger Numbers – Up 205% in July 2023
In July 2023, Palermo Airport in Italy experienced an astonishing surge in passenger numbers, reaching an all-time high of 981,267 passengers. This represents a remarkable increase of 204.65 % compared to July during the pandemic years of 2020 when passenger numbers were recorded at 322,092. Such growth signifies a remarkable airport recovery, showcasing travel demand resilience in the post-pandemic era.
One of the primary reasons for the surge in passenger numbers at Palermo Airport can be attributed to the easing of lockdown restrictions. As countries worldwide relaxed their travel restrictions, allowing vaccinated individuals to travel freely, people became more confident and willing to embark on air travel. This newfound freedom contributed significantly to the airport's increased passenger numbers.
Another crucial factor contributing to the surge in passenger numbers is the attraction of Palermo as a popular tourist destination. Known for its rich history, vibrant culture, beautiful coastline, and delicious cuisine, Palermo has always been a desirable location for travelers. People longing for a change of scenery and a taste of adventure flocked to Palermo, boosting the airport's passenger traffic. The city's accessibility, with numerous direct flights from various international destinations, further facilitated its appeal among domestic and international tourists.
This passenger surge may also lie in the increased connectivity offered by airlines operating at the hub. Several major airlines expanded their flight options to include Palermo as a destination, recognizing the growing demand for travel to this enchanting city. By providing more routes and frequencies, these airlines made it easier and more convenient for passengers to reach Palermo, resulting in a surge in passenger numbers at the airport. This enhanced connectivity attracted leisure travelers and played a significant role in promoting business and trade opportunities.
The successful vaccination campaigns worldwide significantly boosted traveler confidence, leading to the surge in passenger numbers at Palermo Airport. As vaccinations became widespread, individuals felt safer and more comfortable traveling again. The availability of vaccines and the subsequent decline in pandemic-related cases allowed travelers to embark on their journeys with reduced fear and anxiety, contributing to the remarkable recovery of the aviation industry. Consequently, the airport benefited from this renewed trust in air travel, resulting in a surge in passenger numbers.
Overall, the easing of lockdown restrictions, Palermo's allure as a tourist destination, increased airline connectivity, and the restoration of traveler confidence through vaccination efforts all played significant roles in driving this remarkable recovery. As the world continues to navigate through the post-pandemic era, the airport stands as a testament to the resurgence of travel demand and the enduring appeal of this majestic city.
UNBEATABLE VALUE CAR RENTAL

FREE
Amendments,
FREE
Cancellations,
NO
card fees!

airport_shuttle Need Airport Transfers?
Useful Information about Palermo Airport