Palermo Airport Departures (PMO)
Not all flights may be showing. If not available use search above to find your flight by airline, airport or flight number.
Destination
Airline
Flight no.
Scheduled
Est./Actual
Status
Milan (MXP)
Ryanair
FR1016
06:35
Scheduled
Rome (FCO)
Ryanair
FR3947
06:40
Scheduled
Rome (FCO)
Flexflight
W28480
07:00
Scheduled
Rome (FCO)
ITA Airways
AZ1774 expand_more(6)
07:00
Scheduled
Rome (FCO)
Air Malta
KM2532
07:00
Scheduled
Rome (FCO)
Bulgaria Air
FB1644
07:00
Scheduled
Rome (FCO)
Delta Air Lines
DL6692
07:00
Scheduled
Rome (FCO)
Etihad Airways
EY3038
07:00
Scheduled
Rome (FCO)
Kuwait Airways
KU6353
07:00
Scheduled
Rome (FCO)
Royal Air Maroc
AT9236
07:00
Scheduled
Verona (VRN)
Volotea
V71532
07:00
Scheduled
Milan (MXP)
easyJet
U23512
07:00
Scheduled
Rome (FCO)
Aeroitalia
XZ2601
07:00
Scheduled
Rome (FCO)
Ryanair
FR4901
07:20
Scheduled
Lampedusa (LMP)
DAT
DX1803
07:35
Scheduled
Pisa (PSA)
Ryanair
FR6255
08:05
Scheduled
Milan (BGY)
Malta Air
FR2290
08:05
Scheduled
Venice (VCE)
Wizz Air
W45667
08:25
Scheduled
Naples (NAP)
easyJet
U24102
08:35
Scheduled
Wroclaw (WRO)
Ryanair
FR2025
08:45
Scheduled
Milan (MXP)
Ryanair
FR1029
08:50
Scheduled
Venice (VCE)
Ryanair
FR576
09:05
Scheduled
Nantes (NTE)
Transavia
TO4043
09:05
Scheduled
Paris (ORY)
Transavia
TO3811
09:10
Scheduled
Milan (MXP)
easyJet
U23502
09:15
Scheduled
Istanbul (IST)
Turkish Airlines
TK1374
09:20
Scheduled
Zurich (ZRH)
Swiss
LX1741
09:35
Scheduled
Rome (FCO)
Ryanair
FR4903
09:55
Scheduled
London (LGW)
easyJet
U28322
10:15
Scheduled
Nuremberg (NUE)
Ryanair
FR904
10:20
Scheduled
No flight departures were found at Palermo Airport.
Flight Departures at Palermo Airport
At Palermo Airport passengers have the choice of domestic and international routes that span the globe, from travelling to Rome Fiumicino to Verona, from Amsterdam in The Netherlands and Barcelona in Spain to Zürich in Switzerland and Moscow in Russia. Airlines like Altialia, Air France, KLM, Aeroflot, Delta Air Lines, Qatar Airways and TAP Portugal offer numerous destinations around the world from Palermo Airport.
Palermo city is only 35 km distance from the airport, linked via bus and train. Several car rental companies in the city and at the airport offer affordable car rental options to travelers too.
Passengers arriving by car can find parking spaces in parking lots P1, P2 and P3 that is not only within a short distance of the airport, but also affordable. Both long-and short-term parking options are available, starting from just 6.50 euros.
Departures area
Throughout the terminal it is possible to have free unlimited WiFi access. Passengers with a mobile device like a phone, tablet or laptop can log on to the "Hot Spot GESAP" network and suf to their heart's content. In the departure lounge they will find special booths where they can recharge their mobile devices, too. The GESAP home page gives directions how WiFi users can connect to the network.
The GESAP VIP Lounge can be entered by purchasing a special entrance voucher, such as a Priority Pass, or by obtaining an entrance voucher from selected airlines. Passengers with an entrance voucher can expect preferential treatment at reception and first check-in service. The VIP Lounge is located on the first floor, near the A check-in area of the terminal. GESAP VIP Lounge is open from 5.30 am to 9.30 pm throughout the year.
Shopping and dining takes place on the 2nd floor, where Duty Free shops are located in the Boarding Area. The general retail area offers passengers sweets and cakes, and places where to buy books, tobacco, newspapers, toys, snacks and souvenirs. Duty Free shopping includes products like fashion accessories, perfumes, wine and spirits and speciality food stuffs made in Sicily.
Banking options include four ATMs and a Bureau de Change as well as a bank counter on the first floor in the Departures Area. The bank counter is open from Mondays to Fridays from 8.30 am to 1.30 pm, and again from 2.55 pm to 4.25 pm. It is closed on weekends and Public Holidays.
The Check-in B area on the first floor houses an ATM, as does the Departure Hall on the 2nd floor, and the Boarding Area on the 2nd floor.
A Bureau de Change can be found in check-in Area A. It is open from 7.00 am to 9.30 pm every day.
The Departure Hall on the first floor also contains a Pharmacy, which is open from 8.00 am to 8.00 pm every day.
Getting to Palermo Airport
Two taxi companies with ranks in the city offer both private transfers and shared taxis to the airport from central locations in Palermo. Sharing a taxi with three other passengers can be as little a 8.00 euros per person. A single trip costs 35.00 euros from locations like Palermo Central Train Station for example. At the airport passengers will be dropped off just outside the terminal.
Taxi company Radio Taxi Trinacria offers taxi sharing from 10.00 euros per person, tel +39 091 225460 or tel +39 091 225455, http://www.radiotaxitrinacria.it/.
Autoradio Taxi, or Coop. Autoradio Taxi, also serves the Palermo to airport route, tel +39 091 513 311, http://www.autoradiotaxi.it/.
There is a special area, two platforms, where travelers looking to share a taxi can wait. Waiting time after calling a taxi to the airport is at least 20 minutes.
The airport shuttle service is operated by Autolinee Prestia and Comandè. The first shuttle leaves Palermo Central Train Station at 4.00 am, the last one leaves for the airport at 10.30 pm. A ticket can be bought online in advance, costing 6.00 euros per person one-way (https://www.prestiaecomande.it/).
The trip from Palermo Central Train Station to the airport takes ca 50 minutes. The shuttle also calls at Piazza A Gentili, Piazza Croci, Politeama and Via Belgio.
Trains connect also from Palermo Central Train Station to the airport, which is located in Punta Raisi – the final destination, when buying a ticket online or at the Central Train Station. Trains arrive just below the airport terminal. Lifts and escalators provide passengers with access to the departure areas (for timetables and tickets, please visit https://www.trenitalia.com/).
Was your flight delayed or cancelled?
You may be eligible to receive up to 600 EUR compensation per person in your party..
Claim Now!
Beat the Queues
Don't stand sweating for 45 mins waiting for Security. Get a fast track and get through in 5 mins or less.
Book now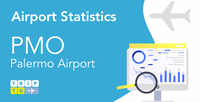 A remarkable increase of 204.65 % compared to July during the pandemic years of 2020 when passenger numbers were recorded at 322,092. Such growth signifies a remarkable airport recovery, showcasing travel demand resilience in the post-pandemic era...